[Since we have been asked to do this for quite a while, here is our first article in English! — This is our first attempt, so please excuse the typos].
Long before the Norse hippies started singing about snow and trees, taking over the tag 'black metal' for themselves, BLASPHEMY was a force to be reckined with in the early black metal scene. This is our story of the band. (Originally written in Spanish. You can read it here.)
Caveat: all this story would not be possible if it were not War Nib Born and his dedicated, devoted and FANTASTIC work on the Blasphemy Ritual fansite. Without him, all the information concerning BLASPHEMY would be disseminated all over the world ahd thus almost impossible to gather, read and elaborate upon. Hails and eternal gratitude!
For those not familiar with this Canadian cult, BLASPHEMY is one of the earliest black metal bands from the late 80's. Formed by Gerry Joseph Buhl on bass and vocals and Sean Stone on drums. Friends since they were kids, they lived a block away from each other and always fantasized with the idea of having a band. This would be achieved in 1984 when
they found guitar player Geoff Drakes, while Blake Cromwell joined them on second guitar.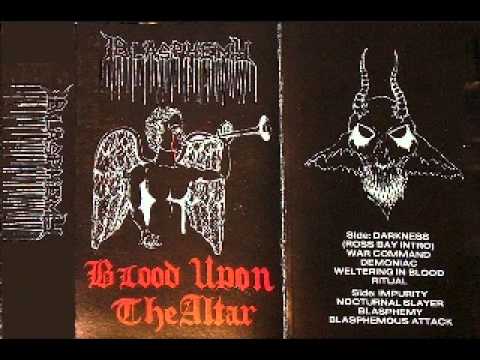 In the beginning, the band had no single name and their initial looks and «wardrobe» included lipstick, hairspray and spandex pants, quite similar to PANTERA during their «Magic Metal» years… which would explain why photo material from those days has not emerged and is not «of public domain», so to speak. By 1986, after trying names such as Antichrist, Disaster and Thrash Hammer, the band take the name BLASPHEMY for themselves. Their song repertoire included cover songs Blasphemer (SODOM), The Return of Darkness and Evil (BATHORY) and Chemical Warfare (SLAYER).
ROSS BAY CULT
Even though the ritual, mythological and atavic have lost a certain amount of power among the milennial generation and other Internet-raised kids, it must be said that BLASPHEMY members take their occult related activities to the heart, and most of such activities had the old Ross Bay Cemetery as their scenerario.
This vast, old Victorian necropolis dating from 1873 and famous for its majestic marbled mausoleums, leafy trees, dark wooded areas, was (is?) the operation center for the infamous Ross Bay Cult, a group of occultists and satanists whose rituals were surrounded by (or took place upon) crypts, cenotaphs and tombstones of this place. Built on the shores of Ross Bay just outside of Victoria, capital of the British Columbia, a city located at the south of Vancouver Island (just in front of the city of Vancouver, Canada), the urban legends about the Ross Bay Cult rituals under the pale moonlight inspired the story behind «Michelle Remembers«, the infamous (and apparently fictional) book on «Satanic Ritual Abuse» that was a large part of the Satanic Panic of the 80's. It was precisely in this place that the BLASPHEMY members took active part in rituals which included, among other things, sex orgies on the marble headstones, grave and corpse desecrations and other unspeakable acts still remaining under the most absolute secrecy.
It may be possible that all these urban legends and unconfirmed rumors were created to give the band a certain mystic aura, but according to the stories known so far, the pseydonyms adopted by the band members had their origins on their ritual activities. Geoff Drakes is known as «Caller of the Storms» because he is one of the main band songwriters / composers; Gerry Joseph Buhl adopted the name «Nocturnal Grave Desecrator and Black Winds» both for his vocal style and for this perverted activities with female humans on many a gravestone in various cemeteries of the British Columbia; Sean Stone became «Three Black Hearts of Damnation and Impurity» because of a ritual he witnessed, in which three hearts were burned upon the tombstone of a witch buried in the Ross Bay cemetery, and Blake Cromwell was «Black Priest of the Seven Satanic Blood Rituals»… for whatever reason! Accordingly, the other band members would have either created or received their blasphemy names (yes, pun intended) on a similar fashion. Be as it may, the truth is that the inner core of the band took part in acts of vandalism and grave desecration, as we will see and read about later on in the second part of our story.
BLOOD INVOCATIONS UPON THE ALTAR
The band played their first gig on December 11th 1988 at the Paramount Club in New Westminster as the opening act for WITCHES HAMMER a local speed metal band with a guitar player named Marco Banco. Now with some songs of their own, BLASPHEMY went into the Fiasco Brothers Studios in New Westiminster to record their now legendary «Blood Upon the Altar» demo. The recording process took place between December of 1988 and January 1989 under the direction of Len Osanic, sound engineer and the studio owner.
Before the demo was released, BLASPHEMY also record a rehearsal in April 1989 entitled «Blood Upon the Soundspace», with Black Priest on rythm guitar. The band quickly sents the rehearsal tape to certain key persons in the tape-trading / underground scene of that era, with Jon Metallion of Norwegian Slayer Magazine fame being one of them. Finally, the demo is released sometime between May and June 1989. With a cover artwork by Black Priest, this sound obscenity hits the underground metal scene with the sheer violence of its music, selling around two thousand copies of the demo.
On the early weeks of summer in 1989, shortly after the demo were released, Black Priest suffers a nervous breakdown (the official band legend states that it was after Black Priest stole a tombstone and desecrated the grave and corpse of a human foetus, but more secular versions suggest that it was caused by a breakup). The fact is that Black Priest went into a deep depression and such state of mental that he walked out of the band. The search of BLASPHEMY for a new guitar player ends up when they recruit Marco Banco of WITCHES HAMMER.
This speed metal band played its last gig in June, 1989 and split-up shortly afterwards, and BLASPHEMY hands Marco Banco a copy of their demo. It took Marco just two weeks of constant rehearsing to learn the band's repertoire. Marco then assumed the ritual (and iconic) name of «The Traditional Sodomizer of the Goddess of Perversion» because… err, well, for constantly sodomizing a cult devotee on the grassy grounds of Ross Bay and Mountain View (yet another Victorian cemetery located in Vancouver, which would be of great importance in the history of the band). By August 1989 Marco «Sodomizer» is a full-time band member and BLASPHEMY tape a rehearsal also entitled «Blood Upon the Soundscape», this time with «Sodomizer» on rythm guitar [Black Priest would return for a brief period of time in 1991 to replace Marco «Sodomizer»].
The band tries to schedule a small West Coast tour in the States. The arrangements were made by Kelly Soler, close friend of the band, who also served as an occasional bass player for BLASPHEMY, also know for his ritual name «Bestial Saviour of the Undead Legions». Even though Kelly Soler did his best to schedule various tour dates, the almost inexistent attention and interest black metal had back in those days the band played just two gigs: one of them was in Seattler and the other one took place on Saturday, February 3rd 1990 at the Gillman venue in Berkeley, California. During a short visit in Los Angeles, they contacted Ricardo Campos («Richard C.») owner of the infamous Wild Rags label/store, who offered the band to release the album on his label. He also offered to pay US$ 1 per copy sold as royalty fee. So, with a deal in hand and two thousand dollars as a record budget, BLASPHEMY return to Fiasco Brothers studios to record their monumental debut album.
De paso por Los Ángeles, contactaron con Ricardo Campos ("Richard C") dueño del infame sello Wild Rags, quien les ofreció prensar y distribuir el álbum en su sello dándoles como regalía un dólar por cada copia vendida. Con un contrato bajo el brazo y dos mil dólares de presupuesto, BLASPHEMY regresa a los estudios Fiasco Brothers para grabar su monumental debut.
TO BE CONTINUED…
Part II: Invoking the Fallen Angel of Doom