On July 21st 2000, BLASPHEMY returned. But it took the collapse of a Canadian conqueror and the wizardry of a japanese-ancestry necromancer to accomplish their return. This is the necrosleezing, conquering chronicle behind the ritual rebirth.
During the late 80s and before joining BLASPHEMY, and besides his previous band PROCREATION, Ace Gustapo had also played for a brief time in TUMULT with Bestial Savior, so he was no strange to the BLASPHEMY camp. Given this background, it was no surprise that Ace Gustapo joined forces with Black Hearts when he was released from prison. The duo started a new project called NECROZLEEZER recording «Recruit for Conflict» (a demo tape also known as «Popekill»).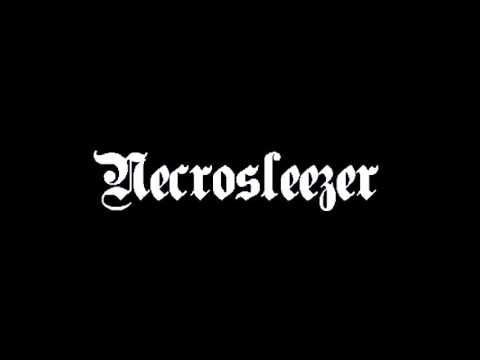 With no J-card, flyer or xeroxed cover, the recording was sent to different labels, including Osmose, who politely rejected it. The project came to an end and the duo made some copies to be spread among their friends in Vancouver. Some months later, NECROSLEEZER had caused some buzz in the underground tape-trading scene.
Even though NECROSLEEZER was short-lived and the recording was intended to be spread among close friends, the demo managed to the interest in underground metal circles. Black Winds was back in Canada already and he joined forces with his old time partner in crime Caller of the Storms; both partners in crime started rehearsing some new material with their own project called APOSTACY but nothing was happening… and nothing would have happened either if it weren't for yet another emerging duo known as CONQUEROR
THE CONQUEROR CHRONICLES
Having released their fifth studio album on May 20th of 1996, death metal masters CANNIBAL CORPSE had embarked on their colossal «Monolith of Death Tour» starting in Denmark on May 30th. With their then-recently added new singer «Corpsegrinder» Fisher on vocals, the «Vile» promotional tour had taken the band all over Europe and all over the States. And now, with a few additional dates between January and May, 1997, the cannibalesque quintet was about to hit Vancouver for their first time ever… The appointment with death (metal) would be at the Starlight Club on February 6th, 1997.
It was the evening of February 6th, 1997. The Starlight Club in Vancouver received a crowd of freaks and fanatics of the filthy metal CANNIBAL CORPSE was famous for. As you, dear reader, probably know, every underground gig is an excellent opportunity to meet new people and, if you have just started a band, to promote and sell your stuff (both music and merchandising). Among the attendants was a young man from the town of Victoria named Ryan Förster, whose new band had just released their first demo. Young Ryan took some copies with him looking forward to sell some of them. But as he entered the Starlight Club, his eyes spotted a rather expected scene: right there, sitting on a table, were the core members of BLASPHEMY: Black Winds, Black Hearts and Caller of the Storms, sharing some drinks and waiting for the show to start.
Approaching the table, young Ryan Förster introduced himself, talked a bit about his new band and gave a tape to each BLASPHEMY member. Years later in an interview, Förster would recall that none of them seemd very much interested, giving him some polite words and putting the demo on their leather jackets. Ten days later, Ryan Forster would receive a letter sent by Black Winds, who seemed greatly impressed with the demo and wanted to know more about the band.
Formed in 1996, CONQUEROR was just two guys: Ryan Förster on guitars and his friend James Read on drums and vocals. Strongly influenced by the «Fallen Angel of Doom» album and the «Blood Upon the Altar» demo, the two friends were following the footsteps on the profane path set forth by BLASPHEMY, but taking the music to the next level of brutality. Isolated from anything resembling a «scene», Förster and Read released their first demo adorned by a xeroxed layout.
Giving the BLASPHEMY guys their demo was far from coincidence; years later, in an interview with Bardo Methodology, Ryan Föster would state that
CONQUEROR was essentially a continuation of some of the concepts they pioneered with that LP, and I was determined to let them hear the fruits of their legacy — Ryan Förster, Bardo Methodology
The five hellish attacks wrapped in a tiny photocopied cover were enogh to impress the proud satanic skinhead and the «Anti-Christian Superiority» demo built the bridge between Black Winds and his new, enthusiast friend. After some visits to Vancouver, a friendship bond was forged between these two generations of satanic supremacists and the BLASPHEMY members welcomed the conquering duo (yes, pun inteded) to their cult with open arms.
The demo also fell into the hands of the French label Evil Omen Records, owned by our old acquainted «Evil» Ludo Lejeune, and a sub-label of Osmose Productions, Ludo offered CONQUEROR a deal purchasing the rights for a full-length album by paying the recording costs. Förster and Read went into a studio, recorded their debut album «War Cult Supremacy» and sent the master tape and the intended artwork. It would be a matter of time to press, release and distribute the album… or so they thought…
By the time the master tape reached Evil Ludo's mailbox, Evil Omen had went bankrupt. The Canadian duo did not have the money to buy back the rights of their material and release it themselves, and «War Cult Supremacy» would be shelved for quite some time.
To keep the band in full force, Förster and Read chose five tracks from the then unreleased album and went back to the studio in 1998 to record them for promotional use. Released as a cassette under the name «Annihilate», the new recording caught the attention of Impurath, bass player for BLACK WITCHERY, a Florida-based band that, at the time, were signed to Full Moon Productions. Impurath showed the promo to label owner Jon Jamshid, a.k.a. Jon «Throns», and also telling him the tragic tale to CONQUEROR's shelved tapes. After some negotiations with «Evil» Ludo, Jon bought the rights to the CONQUEROR album (final artwork and layout included) with the firm intention to release it under his label… but things did not go entirely well… not yet, at least
Early 1999. «War.Cult.Supremacy» was finally released under…. Evil Omen! It turns out that Jon Thorns had sent the artwork but somehow forgot to change the original layout! and that is why the CONQUEROR album, even though oficially under Full Moon Productions, was released displaying the Evil Omen logos on it. Nicely done, right? To make things even worse, Jon Thorns offered license deals to both Merciless Records from Germany and Death to Mankind, a label based in Spain.
Unaware of each other's deeds, both labels accepted the licesing deals and both released their own versions; Merciless Records released a vinyl pressing limited to 500 copes that sold quickly while Death to Mankind did its own 666 limited edition vinyl version and a picture disc version limited to 100 copies. Merciless Records had a better distribution network, though, making the Death to Mankind version harder to sell, which caused the label certain financial disarray.
As if it weren't enough, Full Moon Productions refuse to provide the band members with some copies, claiming that the label had legally bought the rights to it and, therefore, they were not obliged to do so. After some threats and arguments back and forth, CONQUEROR finally were sent 50 copies of their own debut album. But by the time all this debacle took place, CONQUEROR had ceased to exist.
The two CONQUEROR members decided to part ways and James Read moved out to Edmonton, forming the mighty REVENGE. Ryan Förster then relocated himself in Vancouver and started hanging out with certain characters whose bad company and perverse influence would seal his doom: not only did Förster spent countless hours with the BLASPHEMY members but our beloved, bestial beer-drinkers recruit him in their ranks.
RITUAL REBIRTH
Faithful and observant to the tradition, Ryan Förster did a lonely pilgrimage to the old Ross Bay Cemetery. There, under the pale moonlight, and a portable stereo blasting the still of the night with the dissonant notes of «Fallen Angel of Doom», as his sole companion, Förster removed years of long hair from his head and buried them forever under the cemetery soil as an offering to the gods of the netherworld. Wielding the rythm guitar, Ryan Förster initially assumed the ritual name of «Warlord of the Arcane Rites of Bloodlust» quickly changing it later to «DeathLörd of Abomination and War Apocalypse».
In spite of the minor setback with Full Moon Productions, the good relations between Ryan Förster and the people in BLACK WITCHERY would continue with good results. Over a phone call conversation, Black Hearts convinced Impuriath and his cronies in BLACK WITCHERY to play together, with all BLASPHEMY members doing the arrangements to set up the gig in their hometown. With Bestial Saviour brandishing the four strings once again, the five-piece band that was BLASPHEMY announced their first gig in seven years.
On Friday, 21st of July 2000, with a line-up including the bands THORAZINE, DISCIPLES OF POWER, CROWN OF THORNS and BLACK WITCHERY, BLASPHEMY played at the Columbia Hotel in front of 300 maniacs clumped inside the venue while other 100 could not get a ticket for the sold-out show, which supossedly was filmed with three cameras. To this day, the only filmed footage available from this concert is shown below these lines: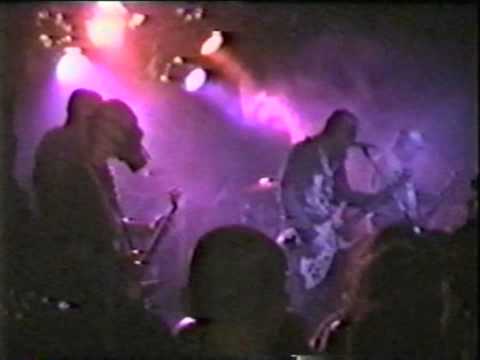 On that stormy night, BLACK WITCHERY crushed the minds and BLASPHEMY corroed the souls in a show that, literally, blew up the house. Even the roof gave way under the heavy pyro attack during the last notes of «Ritual»… Burn, motherfucker!
A second and equally succesful live ceremony was celebrated on August 26th at the Icehouse in Victoria, this sharing the stage with ALLFATHER and FUNERARY CALL, but the third ritual, held at the Studebekers in Burnaby, near Vancouver, would be digitally captured on audio by a brave BLASPHEMY believer of Japanese ascendant who boldly brought with him a MiniDisc to the show. The name of this skillful sound sorcerer was Yosuke Konishi.
NUCLEAR WAR… THEN AND NOW!
Yosuke Knonishi had been given a MiniDisco recorder as a present a year earlier, and the young metal enthusiast had successfully tested the device by recording the audio of a ENSLAVED show in August of 2000. Yosuke, who by that time was known in underground scene as «YK Insulter», released the audio show as a limited edition CD-R of only 30 copies under the name «Vikings Cometh». While he regretted releasing this bootleg, «Insulter» discovered to his amazement that he could record a decent live audio sound with just his digital MiniDisc recording device.
By the time BLASPHEMY announced their two live shows for the summer of 2001, «Insulter» was already in touch with Ryan Förster and Jay Wilhelm of GODLESS NORTH, a band that would perform with BLASPHEMY on the now famous live ritual of Friday the 13th (July 13th, 2001). Yosuke asked the BLASPHEMY members for permission to record the audio of the show, to which and no band member refused. Once the show ended, Yosuke and the BLASPHEMY guys went to an after party at Jay Wilhelm's apartament where they listened to the recording. «Insulter» asked Black Winds and Caller of the Storms their permission to do an official release in physical format. Once the band members agreed, Konishi started put his body, mind and soul to release it in the most professional way possible.
With the artwork of Christopher Moyen «ThornCross» on the cover and released under the suggestive nameof «Live Ritual — Friday the 13th», this recording would become the first official release of the band. This release made sure that future generations of extreme metal maniacs could know and appreciate the devastating machinery that is BLASPHEMY when they perform live, overthrowing any pretender to the throne of bestial black metal whose sole, supreme, undisputed sovereign BLASPHEMY was, is, and forever shall be. With this frist vinyl release, in association with War Hammer, Yosuke officially started the now famous underground label NUCLEAR WAR NOW!
OF WAR SLUTS AND BESTIAL SAVIOURS
On Saturday, August 4th 2001, Australian band DESTRÖYER 666played in Wacken for the first time ever. They were the third band onthat afternoon. Their guitar player, K.K. Warslut, had said in an interview (now posted on Voices from the Dark Side) how excited he was to play at Wacken, specially because he would share the stage with two of his favorite bands: DESASTER and DESTRUCTION. Among the thousands in the in the crowd and the hundreds of people, were the five members of BLASPHEMY.
At some point after their gig, K.K. Warslut crossed some words backstage with Bestial Saviour who, besides playing the four strings in BLASPHEMY, has been a aprt of the band crew. A walking mountain of muscles, pretty much like his bandmaters, Bestial Saviour is a very calmed, friendly person… until he is provoked. It seems that both of them (Warslut and Bestial Saviour, that is) had had too many a drink and it seems that K.K. Warslut was being impertinent, rude and maybe a bit obnoxious. According to certain accounts, Warslut made some derogative slurs about Caller of the Storms, to which Bestial Savoir answered hitting Warslut's face and breaking his nose.
What is interesting to note is that, in the previously quoted interview, which was conducted weeks before the incident, Warslut constantly mentioning the BLASPHEMY and SUFFOCATION demo tapes as his main influences and referring to his days immersed in the tape-trading scene from the late 80's and early 90's, With this in mind, it is not a wild leap of theimagination picturing Warslut with a drink or two in his liver, and trying to look badass and funny, and never expected such pounding response. Well, the joke was on him and the comment backfired right in his face… literally.
A fact supporting our hypothesis is that the two bands get along with each other,, even sharing some drinks together. During the show played by DESTRÖYER 666 at the Rickshaw Theater in Vancouver on August 20th, 2010, Warslut gave a shoutout from the mic to the BLASPHEMY members enjoying the show from the balcony, going out for drinks with them afterwards alongside the guys from TYRANT'S BLOOD, the current band of Marco «Sodomizer». A poise gesture of true friendship to us all..
After the incident at Wacken, BLASPHEMY would play one additional summer gig, playing at the Anza Club in Vancouver on August 29th, 2001. The band rehearsed constantly for several days before the show at their usual headquarters (the basement at Bestial Saviour's place, that is). One of these rehearsal sessions would be recorded by Ryan Förster using the MinDisc recorded borrowed by Konishi. The resulting sound was so good that the band would make it an official release, as way to give their old and new followers a glimpse inside the band's activities. Additionally, BLASPHEMY premiered a brand new song entitled «Victory (Son of the Damned)» the name by which this reheasal would be known.
Originally included as a CD-R with the «Live Ritual» die-hard version, the rehearsal would be later released on CD, cassette and double LP formats. The long rehearsal session includes some exchanges between the band and the BLACK WITCHERY members, who were invited to the sessions, giving the listener a sound picture of the aura surrounding these sessions of liquor, libations, and luciferian loquacity. Nobody even suspected that the show at the Anza Club would be the last for quite some time. It would take another eight years to reactivate BLASPHEMY
Part I: Thus it began
Part II: Invoking the Fallen Angel of Doom
Part III: Summoning the Gods of War
Parte V: Recess and Resurgence