Between August 2001 and October 2009, all BLASPHEMY members answered interviews and did some collaboration projects with other projects in the underground scene, finally returning with full force in 2009 but… how and why?
SATANIC SKINHEAD PROPAGANDA
Even though the band had plans for their immediate future, things did not go as they wanted. Band members were denied their entry to Europe for a while because of their legal record and, since they could not play in the States for the same reasons and were still vetoed from certain regions in their own country, BLASPHEMY had to take a forced recess. They still rehearsed from time to time, documenting these sessions by uploading images of these sessions to their MySpace profile,and some of them were actively involved with other bands and projects: Ryan Förster played in GODLESS NORTH, Bestial Saviour was in MORBOSIDAD and NECROHOLOCAUST and of course, the band's association with Antichristian Kramer and his «Satanic Skinhead» zine.
Between 2001 and 2005, some BLASPHEMY members —and other people close to them like Marco Sodomizer—interacted with Antichrist Kramer (AK), a character in the underground scene who had published a 'zine in the late 90's called «Stab Wound» and, by 2001, started a new printed outlet known as «Satanic Skinhead». The title was clearly inspired by BLASPHEMY —after all, the word «skinhead» is also a slang for «shaved head person» and the band had done so to make a difference— and the collaboration between AK and the band seemd natural at the time.
AK's zine featured interviews with Dagon (INQUISITION) and several reviews about CONQUEROR, REVENGE, BLACK WITCHERY and other folks close to that circle. Things were fine until 2005, when the band decided to keep a prudent distance from both AK and his record label Satanic Skinhead Propaganda, trying to be apart from any association that could give BLASPHEMY a political connotation.
[Regarding Antichrist Kramer's political ideologies, it must be pointed out that AK's label Satanic Skinhead Propaganda (a.k.a. Deathangle Absolution) has released material of bands politically diverse and averse from each other such as the neo-nazi DER STÜRMER and anti-fascist punk bands GERM ATTAK and SCHIZOPHASIA, not to mention the SPITE tape «Secular Hatred» (reissued by the label) caling both extreme right and extreme left «supid». Confuse and confound, 'till the stars be numbered].
Years went by and nothing was heard from the band's headquarters until…
THE BLACK FLAMES OF BLASPHEMY!
To celebrate the 20th anniversary of the «Blood Upon the Altar» demo, BLASPHEMY's long-awaited return was announced on April 30th, 2009 as headliner act on the second date of the Black Flames of Blasphemy Festival to be held in Helsinki, Finland.
Organized by Kold Resort Kvlt, the two-days festival began on Friday, 23rd of October with URN, HORNA, DENIAL OF GOD and TAAKE, closing on Saturday 24th with PROCLAMATION, BLACK WITCHERY, REVENGE and ARCHGOAT. The announcement caused such buzz that tickets were sold in less a month, and people all over the world scheduled flights just to see BLASPHEMY performing live. After all, the amount of evidence available by then suggested that there might as well took several years for another BLASPHEMY live ritual.
But much to the surprise of many, Sepulchral Productions made an announcement on July 27th: BLASPHEMY would perform once again in Canada and the chosen city was Montreal. The gig took place at Las Katacombes in Montreal on Saturday October the 3rd 2009, just three weeks before the Helsinki show, and BLASPHEMY conspired that night with RIOTOR, DETHRONER and WAR COMMAND, in one of the scarce live performances the band has done in the Frech-Canadian territory of Quebec. The RCMP —the Canadian equivalent of the FBI— was aware of the band's activities and, on their their trip to Montreal, the band was stopped for interrogation purposes. Apparently, the officials were very curious and intrigued, and wanted to know a bit more about the unusual equipment of spikes, leather, chains, bullet belts, hand-grenades and other paraphernalia the band isfamus for.
Since their close friend and bass player Bestial Saviour had joined MORBOSIDAD and was also very active with NECROHOLOCAUST while BLASPHEMY was on hiatus and therefore he was not available, our beloved brutal blasphemers introduced a new member to their 2009 line-up:
The proud long-haired machinery that is Three Black Hearts on drums, Black Winds delivering the voice, and the two six-stringed axe wielders Caller of the Storms and DeathLôrd were joined by Phil Kusabs, a.k.a. V. Kusabs or plain and simply VK on bass. From the ranks of VASSAFOR, VK was also playing in DIOCLETIAN at the time. It is also worth mentioning that VK traveled all the way from New Zealand to Vancouver in order to stay with the band, rehearsing and learning the band's repertoire in just three weeks.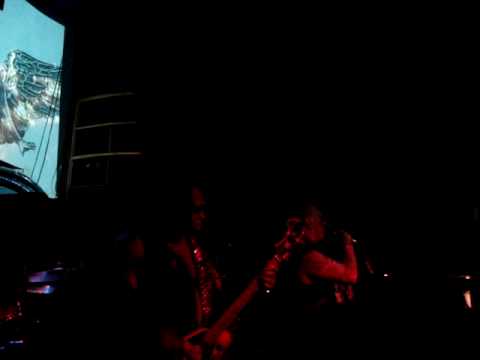 All the bands performing were supossed to be professionally recorded and all the required equipment was brought for that purpose but the mixing board had a broken output and the planned DVD release had to be postponed.
As for the Helsinki «Black Flames…» festival, the whole show was filmed using five cameras, and it was also intended for a DVD release… which remains unpublished to this day. There is one particular anecdote concerning this gig: apparently, Three Black Hearts was missing right after the show, appearing the day after with a eye. Neither the band nor Black Hearts himself have the smallest clue as to where did he go or what happened… Chaos follows the Ross Bay Cult worldwide!
If you, dear reader, want to have an idea about the might and power that is BLASPHEMY live, allow us to suggest the best live video register available to this date: the fantastic «Brazilian Ritual – Third Attack» DVD. Filmed on November 9th 2013, this video documents the festival in Sao Paulo organized by Eduardo Beherit. The show also features BESTYMATOR, GOATPENIS, REVENGE and BLASPHEMY. A small sample of this release can be seen here:
BLASPHEMY performance was impeccable.but their whole set could not be included because of copyright issues. Much to Eduardo's frustration and anger, Osmose Productions prevented him from releasing songs from either Gods of War or Blood Upon the Altar, for which the French label owned the copyrights at that time.
Ever since their return in 2009 and with the veto from the European Union lifted once the legal issues of the band were solved, the Canadian cult has been playing live with more and more frequency over the years. Honorary mentions of some performances must be done, including the Nuclear War Now! in Berlin (2010 for the «Fallen Angel of Doom» 20th Anniversary, once again in 2012 and most recently on the Never Surrender in 2018) as well as some Euripean and Southamerican shows including Jalometalli in Oulu, Finlandia, the Brazilian Rituals in Brazil (2015, 2017), Inferno Festival in Oslo, Norway and the Eindhoven Metal Meeting in the Netherlands (2014) and Black Flames of Blasphemy VI, once again in Helsinki (2016). Since it was announced that the «Black Flames…» festivals would cometo an end with this final version, the promoters announced a «surprise guest band».Kept in secret until the very last moment, BLASPHEMY was the headlining and closing act on that evening. It was a night that none of the attendants will never forget.
Even though a gig in Vancouver was also planned for 2009, the truth is that BLASPHEMY would not play on Canadian ground until 2013 and the promised Vancouver gig would not be a reality until 2017.
LEGACY AND TRASCENDENCE
Despite their discography and their periods of activity, BLASPHEMY has endured the test of time: not only their material sounds as vigent as when their musical profanations were unleashed upon this Earth, but also took the music of their first influences (VENOM, BATHORY, SODOM, SARCÓFAGO) taking them to the next level. thus becoming a source of inspiration for both their contemporaries (BEHERIT, MAYHEM) and later generations (CONQUEROR, PROCLAMATION). The legacy of BLASPHEMY follow its natural course… and curse!
ACKNOWLDGEMENTS
This series on the BLASPHEMY story would not have been possible without the dedicated and detailed archivist work done by Legion (a.k.a. War Nib Born) on his Blasphemy Ritual site, historiographical research currently in progress carried out by Yosuke Konishi (Nucelar War Now! Productions), the collective effort of the community members posting their data, information, sources and recollections on the NWN! Prods forums and, last but not least, the good offices and invaluable help of Nikos Triantafilou, whose input and meticulous observations regarding names, dates and places made all this as accurate as possible!
MAIN SOURCES
Blasphemy: Exclusive Interview. Full Moon Productions.
Blasphemy, «Crime (and powerlifting) Pays», entrevista en Zero Tolerance Magazine.
Blasphemy, in «Black Metal: Evolution of the Cult». Dayal Patterson, 2008.
Blasphemy Ritual, the best fan site in tribute and homage to the Canadian cult band.
Destroyer 666, interview published in Voices from the Darkside
Nuclear War Now! Records.
Ryan Förster (Death Worship, Conqueror, Blasphemy), interview in Bardo Methodology.
Part I: Thus it began
Part II: Invoking the Fallen Angel of Doom
Part III: Summoning the Gods of War
Parte IV: Renace el Ritual
Part V: Recess and Resurgence