In the wake of the 25th anniversary of both the birth of Osmose Productions and of Colombian death metal band MASACRE's godly debut «Reqviem», we reached Hervé Herbaut, founder and CEO of Osmose Productions, to inquire a bit on his beginnings in the underground scene both as a fan and a tape-trader, an avid buyer and a distro owner, the conformation of Osmose, the deal with MASACRE, and some issues related to the early days of his label. You can find the Spanish translation of this interview righr here. In the meantime, we presnt to you this interview. ¡Enjoy!
1. Greetings, Hervé! First, thank you for taking your time to answer the following questions. How are things going in Osmose these days? End of the year is pretty hectic, isn't it?
Things are great! We have finally move to a new warehouse after 3 years of search. It took us longer than expected since we planned to move to another country, but at the end it failed due to French law, so we decide to stay in our area, in north of France, and after a long search, i guess we find the right place to stay there now the following years. As of the company, everything is working good, can't complain, plenty of great new comers, new releases, re-issues, tons of ideas who will take form finally.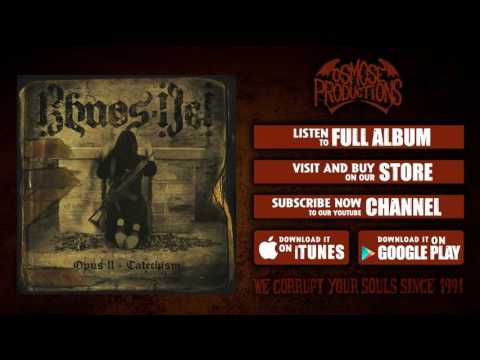 2. From all these end-of-the-year releases, which one do you think is the most promising?
I would speak only of Osmose releases who are 80% of what i listen. The new Khaos Dei «OpusII: Catechism» is by far a very impressive and very personal adventure for the band members, so definitely one of the very best band i've got the luck to discover. (We at Crónicas Estigias also recommend LIBER NULL – I, The Serpent –ED).
3. Now, let's go back in time, so to speak. Before Osmose, there was Strangulation! (your small mail order business, I think during late 80s / early 90s). Tell us a bit about those years. What motivated you to start the distro, what were the demos or vinyls most requested back then? And which ones were your personal favorites?
The story started even before Strangulation dist. In fact in our area, we were very lucky to have Belgium shows close to where we are, in north of France, with crazy bands almost every 2 weeks. Cos back at that time, Belgium, Holland and Germany where the place to be! We've got the luck to see the beginning of bands such as Destruction, Sodom, Celtic Frost, Living Death, Acid, Cyclone, Deathrow, Onslaught, Venom, Violent Force…NO SMARTPHONE expecially, just few peoples were taking film photography, and it was just war on stage & on the crownd! There were no security bullshit, we could slam from the top of the roof, was a very crazy period. It was pretty hard to find record, or we wanted to go more for Underground stuffs, so i started to buy record, demos all around the world for my close friends, from Finland to Russia, Brasil, Greece, Peru… per 5-10 records/demos, then spread there to my friends. But it started to be harder and harder to collect the moneys from my friends, so i decide to start buying record and to sell there during shows mainly in Belgium on a small plastic case (see picture). Everything start with this plastic case, all the story of Osmose start from there…
…now we have 400m² of record we are producing since 1991!
Straight from my memories, i remember the Finnish Speed Thrash band namned Protected Illusion that i sold tons of there first 7»ep, the very first Sarcofago «Inri» vinyl version, Messiah «Hymn to Abremalin», the Mayhem «Deathcrush» posercorpse edition. When i sayed tons, it was about 25-50 copies, but back then such unknown band, was a good result i must say. Then some of the band like Gorefest first demo, i've sold about 100 within few days! Back at that time, also there were almost non existent Black metal band or just a very few that I mainly start selling their demo or vinyl.
4. "Herve and Strangulation" are in the thanklist of MASACRE's «Ola de Violencia» MLP. Remember how did you get to know about the band? What was the "thinig" you saw in them?
I've entered in touch with Bull Metal from a fanzine as far as i remember, while i am not so sure anymore, it is almost 30 years ago, but back then i also offered Bull Metal to sell the demo tape of Masacre and also the result was incredible; Cancer de Nuestros Dias, we sold about 200 copies!!! And as of their Ola de Violencia, around 300 copies. It was absolutely unbelievable to sell so much on such short time back then. Not to mention all the complicated situation with the customs in France who were asking me what i was doing with all those tapes etc… A parcel from Colombia back then could have take easily 3-5 months to get delivered, and we were paying with the IMO (International money order) who doesn't exist anymore. Just the payment could take 1 month to reach Bull Metal, so you can imagine from today how things were going slowly.
5. You started Osmose in '91, and your first release was SAMAEL. Yet, that was not your first option; according to an interview, SAMAEL was not the first to be released. It was supposed to be some other band but there were complete delays in everything and SAMAEL got everything ready". So, what was the other band? What kind of delays affected this first intended release? Which other bands you planned, wished, intended to release but, somehow, was not possible to do so?
I think it was Blasphereion who got delayed so long back then for about 2 years. Still i am not so sure. A friend of mine did organise a show in our area with Samael and Blasphereion. I meet the guy of Samael who told me that the record was ready almost a year before we decide to built Osmose, then obviously we spend all our money aside to print the record per 1000CD/1000LP and no more money to continue right after as it was not so easy to sell right away 2000 copies.
Then Masacre «Reqviem» was ready with all this difficulties that you can imagine from the recording that was not the way it was suppose to be, since we were looking to hear something more in the vein of Ola de Violencia mlp. As from now, i would say that Reqviem got the perfect sound as it could have been done back then. Also it was delayed as well, since it was wrong with the cover who represent the painting of Cesar assassination, we get it in 2 pieces as kind of photocopy. We had to find a way to make it better, then we went to a specialist to check out the best way to make it happen. Back at that time, computer were not available, and everything were done by handcraft and a typewriter.
6. You were only 22 years old back then. How hard was it for you to learn "on the march", or did you get any 'business advisory' on how to run a record label? And if such was the case, do you consider there were any 'ill advices' in the beginning?
That's correct, i was 22 years old when i built Osmose with Myriam who is still the director of Osmose. Well my own story is very simple. I get raised by my mother with my younger brother since our father left the family while we were young. She was an housekeeper at a handicap center, and due she was working late in the evening, i started to care of my brother while i was 12 years old by preparing the evening meal daily for him and taking care of the house very earlier in my life. That's maybe the reason why today I cook daily for my family, i love it, and expecially very pround to invite friends to eat something that i cook, and make them discover new taste, wine and so on. Anyway I had to stop my studies when I was 18 to find a job to help my moon paying the study of my brother who was very good at school, then i did work in car garages, paper factory and 3 years at a social center. I've got absolutely no business advisory BUT i was a furious die fucking hard crazy fan of extreme metal music. Spending all my possible cents in buyer records, and going to shows as much as we could with my friends.
All my earlier life was based on 99% of the music. When i was working at the social center, at midday, we've got 2 hours free for the lunch, and during that time, i was sending moneys, Imo all around the world to buy demos, records that i was discovering through fanzines that i got also to buy from every fucking possible way! Everything start by passion, much more than a regular fan, since when i was bying a record, i wanted to understand also all the process to do a record, so i learned by myself at library how things happen to make a record. Then i started to talk more and more with a guy who was running a store in belgium to know how to get in touch with distributors, and to search everywhere possible a list of manufacture for tapes, vinyl etc… I can tell you, today it is so fucking easy with internet, was not at all 30 years ago! Then we went to register a company at our local dept. You can easily imagine that the guy in front of us where looking at us like mentally disabled persons or ufo persons. He told us not to do it, then we say him, ok fine, then we want to do it at 1 MILLION PER CENT!
7. Osmose started as a small label, yet you offered the bands the recording cost, promotion, (CDs, advertisements, posters) and they are paid only from the sales. Was it always like that with all your bands during the early days, or were there exceptions? Was there a band that offered to share the production costs?
We did proceed this way from day one, and still today, we still pay all the cost around from the studio, illustrations, graphic, production, promotion, advertisement…and bands get sales statement every 6 month with a complete report. Anyway lately things has change a bite since more and more bands are looking to get free % from the print as fee to sell at their shows who at the end is more prolific for the bands, but all in all it is still under the same kind of production we are dealing with all our bands.
8. Except for SAMAEL and perhaps PROFANATICA, the first 6 OSMOSE releases were mainly death metal albums, and then up until 1995 we all saw almost exclusively black metal albums being released by Osmose. Seeing this process in retrospective, was it a coincidence, or you saw a business opportunity? Or were you just signing bands no other label would sign because death metal was "the thing" back then and neither Earache nor Nuclear Blast of Century would sign a black metal band during the early 90s?
There were 2 facts. 1st one was the idea of doing harder stuffs who would result on doing Black metal, but back then it was not easy doing that kind of music since there were just very few active bands. 2nd, was simply, that we would do bands that no one else would care due their were harder in all manners, and that's what i was looking for. More crazy bands with different attitudes, more underground, more dark, more crazy…
9. Even to this day, Alex Okendo, MASACRE's frontman, really enjoys telling the story, as he "could not believe that a guy who did not even know us, offered such deal" What do you remember of the deal you offered to MASACRE? Was there any particular request or demand from you or from the band? You pressed 1.000 CDs/LPs for SAMAEL's 'Worship Him'. How many copies of 'Reqviem' were pressed and how difficult was it to sell a Spanish-speaking Colombian band in Europe?
Ahaha, pretty nice to hear from Alex about this. But back then, i was a lot in touch with Bull Metal who was our main contact for Masacre. We were sending each other letters speaking about music…and it was just natural that i offered the band a deal cos i was so into the Ola de Violencia mlp, still today I love this record so much! As for the language, it was not a problem for me, some retarded metal fans were against this idea that an extreme metal band could sing in other than english, but look today, more and more bands are signing in their native language if it is not in their pagan language! Masacre were advantgardist by singing in their native language, their should be very pround for this. As of the original print, I guess we did the same as Samael with 1000CD/1000LP.
10. On an interview printed in 1993 by a Colombian 'zine, Bull Metal (MASACRE's drummer) said that the original intention for Osmose was to press and/or release the "Ola de Violencia" MLP but, for reasons he did not clarify back then, the band, or the label, decided to release the album instead. Was it like that?
Yes i wanted to do the Ola de Violencia mlp , it is true, but the reason why we didn't do it…I can't remember. I think it was a timing problem. The Ola de Violencia was ready, I remember also that back at that time Euronymous was interest to do it too. He (Euronymous) was calling me every 2 weeks to try to know what we were doing, which bands i was following etc… Anyway coming back to Ola de Violencia, i still wonder why today we didn't do it in his original format. I should check it out with the band to do a special version of it, just as to remember we were suppose to release it. Would be cool to have it out again under vinyl.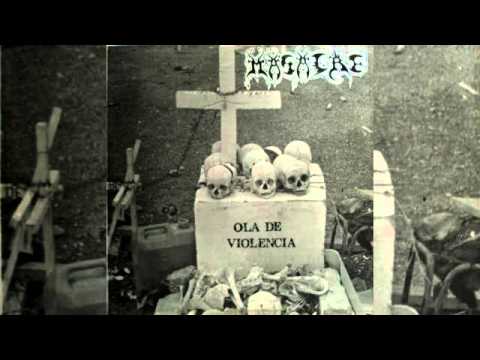 11. He also stated that you really, REALLY liked "Ola de Violencia", but were a bit disappointed by te sound the band had in "Reqviem", describing it as weaker. How truthful was that statement? (As a side note, Alex Okendo says that "if 'Reqviem' had the same sound we did in 'Ola de Violencia', we could have accomplished something greater". Would you agree?)
Absolutely true! Clearly if Reqviem would have the sound of the Ola de Violencia, Masacre would be certainly today a very big band! Back at that time Masacre just with the Ola de Violencia got a massive follow all around the world from the Underground and mainly due to Bull Metal who was very active in the Underground. I think we contribute a lot over Europe with the copies we sold of it, it was impressive to see the demand, and just imagine one second in your head the sound of the MLP for the Reqviem album. Anyway things turn differently for the album, and it become as it was with no regret.
12. OSMOSE's deal with MASACRE came to an end after the split with PROFANATICA. Did the fact that Bull Metal was out of the band affected somehow an eventual deal with MASACRE for a second album? Did Bull Metal approach you for a distribution deal for his black metal band TYPHON?
I can't remember the reason why we ended our collaboration with Masacre. A sure fact is Bull Metal was our main contact, and yes he offered Typhon but i was not convience about the sincerity behind his new band. Later Alex keep in contact with us for an eventual new album, but was it complicated inside the band as far as i remember and we lost contact back then.
13. How come Osmose never got to reissue the Masacre LP, or the split with Profanatica? Was there any kind of especial clause regarding the rights to the recorded material?
As of Masacre Reqviem, it has been re-issue several time after the first 1000 cd's, not the vinyl version, like the cd itself has been sold about 5000 copies I guess, or more or less, i cannot remember. As for the split with Profanatica, it has never been re-issue, cos we lost all the data during our first move, and a lack of interest is sure also from our side to re-issue it. With Profanatica the relation went very bad straight after the split since the band really fuck-up very hard for their coming stuffs, and I didn't want to hear anythuing anymore from them.
[For those of you who do not know, PROFANATICA is a black metal band formed in 1990 by three founding members of INCANTATION (Aragon Amori, Brett Mackowski and Paul Ledney). Osmose even printed flyers promoting what would have been the cover of their debut LP, "The Raping of the Virgin Mary" (whose working title was "Sodomy of Sacred Assholes"), the eventual cover showed band members in the nude. Some rough mixes (without bass guitar tracks) were around in the tape-trading scene of the early 90s. However, the album had its master tapes destroyed in studio. According to an interview with Paul Ledney in Voices from the Dark Side, «Aragon and Robert from DEMONCY erased it using a large magnet at the studio when I left early one night. That one I'm positive of. They both admited it on seperate ocasions. The drums were done in 1 take in 1 night. After that the guitars were very sloppy, and I kept having them re-do it. Keep in mind we are not RUSH. This shit is very easy, and anyone knows me knows I'm more lazy than picky in the studio. The shit was so off time I couldn't believe it. I was giving those guys a hard time about the parts. Now it's going on 2 weeks and the guitar tracks were not finished. I was furious. Herve kept calling us asking where the hell the master is. I gave those guys a deadline and I guess they didn't like it so they destroyed it«. The band members went their own way, apparently not on very friendly terms, according to an interview given by «Wicked» (known today as Ixithra from the band DEMONCY). After forming and playing with HAVOHEJ for some years, Ledney resurrected PROFANATICA in 2001. Some of the tracks from the unfinished full-length album were recorded and released as Havohej's «Dethrone the Son of God» (along with a few other tracks). Five more tracks from the final studio sessions of1992 were featured on the second disc of «Enemy of Virtue» digipak collection. In early 2014, a tape with the «lost» DAT of the unreleased album, sold by Jim Stanic of Desecration of God Productions, surfaced in Discogs –ED].
14. Not sure if you are aware of this, but there is a Colombian popstar named "Juanes", apparently world-famous now. Anyway, he used to be in a speed/thrash metal band from Medelín called EKHYMOSIS. When MASACRE was signed by OSMOSE, Juanes sent a letter with their material to see if the label was interested. And it was rejected. Do you remember seeing the name EKHYMOSIS back then?
Ah, so i should check out on my demo collection then! i will probably find it and have a listen again, but i can't remember.
(While Hervé looks for the tape in his personal demo collection, we give you a snap of Osmose's rejection letter to Juanes. For what it's worth –ED)
15. Speaking of 'rejected bands'… are you aware of any band rejected by Osmose that became "big" in any other label? If so, do you regret such decision?
We've been in touch with tons of bands all around the world, still today, small or already with record are trying to sign with us, and some are quite «famous». One of the latest big band now that I didn't pay attention to them while their manager keep on bashing me during my summer vacation was Gojira! Other than that you have to know that i keep on signing band when something happen while i listen the stuffs. My hairs stand, this feeling of well-being while the music can be either very chaotic, stressful, geniously orchestrated or simply messy, it is my heart who speak then, and when i'll get into this feeling, i contact straight away the band.
16. When and how did you realize that Osmose had become a full-time job? What was the 'waking call'?
The 3 first year of Osmose, i keep my job, working at the social center, i was working the day at this center, and evening and night for Osmose, sleeping average of 4-5 hours daily was very hard. I even got a massive car accident due i was to tired while i was coming back from my previous job. I had to take the decision in '95 to definitely handle Osmose as full time job, and that year we almost get bankrupt due to a serious lack of income. You should understand too that at that time record were selling good, but not enough to have a full time job for your passion. Spv who was our europeen distributor help us financially to avoid the bankruptcy, and the year after in '96, it was the beginning of a serious consecration. Enough money to live on the small house we rented, using the garage for the stock and having our office in the living room in the middle of the kid toys and full of record everywhere. Was hard to have an expectation on what i was doing by passion, but at the end it payed.
17. We all know that IMMORTAL has been OSMOSE's best selling band. Which ones are the top selling bands currently on Osmose's roster? What has been the hardest album to sell in the label's history?
Of course Immortal is by far the very best seller with 3 albums who went over 25,0000 copies each by now (Pure Holocaust, Battles in the North and At the Heart of Winter), but lot of other releases did very well too from Impaled Nazarene, Marduk, Enslaved, Dark Tranquillity, Absu, Shining, Melechesh, Lifelover, Master's Hammer, Pan-thy-monium, Angelcorpse, just to say a few… and also we've got too, hard time with other great releases who could and still can be «classic album» who didn't get the luck to sell good, but this is also the life of a record company. You cannot be always at the top with the sells.
18. Censorship was a big thing back in the day, and I know many a death metal album was banned in some European countries. What kind of problems, legal issues, and/or religious protests, related to censorship, have you met with over the years? Is there a special, particular case you wish to elaborate? I remember a pretty controversial flyer promoting a PROFANATICA 7"EP, and the original artwork for IMPALED NAZARENE's 'Ugra Karma'.
We've got some censorship around the company with court trial too like the one with the sect krishna who win at the end. We lost a lot of money by that time. the sect is illegal in France, but it was the usa office who sue us and we lost. Then also with the Fuck me Jesus cover, we were banned originally from a lot of countries. Even nobody wanted to manufacture the record, only a company from Israel accepted to do it (A company from Israel accepted doing the «Fuck Me Jesus»? What a surprise! –ED). Now the manufacture of this record take place in Czec republic but still we've got hard time to accomplish it. The sect jehova also try to figure out to sue us. Some of their local representative persons came at our offices about 15 years ago…We were polite, they start bashing, blaming us, I quick them out right away with no rest.
19. You are one of the few exceptional witnesses of metal's development over the last 25/30 years, both as a fan and as a label owner. What's your opinion on current trends in metal and what's your opinion on this 'old-school' revival?
As a fan, i would say there are ton of absolutely great bands around for sure, but there is also a serious lack of creativity at the same time. It is harder to make the difference today for younger bands, and it is even harder to expect that one of them can become as important as one of our youngest roster back in the '90. As a professional part, expecting to sell 100000 copies today is simply not possible anymore. We are lucky when a band is selling 10000 copies. The average of actual sells is rather 5000 than 50000! internet is for a lot of such decrease but also today's there are much more bands than 25 years ago. In year 2000, you've got like 30 metal releases a month, today we are at over 100 metal releases every week in Europe! As of the old school revival, well it is cyclic, today it is the Speed, Thrash, tomorrow it will be something else, and mainly due that young fans want also to discover everything possible from the past till now. So the sells happen, but rather smaller on each release.
20. Now that technology is easier to obtain, and communications have changed and shaped the world around us, it seems that everybody started their own label / distro, and competition must be pretty harsh. What do you think has kept OSMOSE relevant all these years?
Working harder and harder. My job for me is vacations! When i am in vacation it is a job! i am very serious about that, as i have the chance to do what i love the most by passion. Of course money talks, so we have always to consider this accept, but all in all i can say that we move our asses to make it happen, keep on discovering bands around the world, and i must say that i am very proud today of the french scene who is becoming very important with absolutely great bands who get recognise all around the world.
We've got at Osmose bands who get more known outside France like Anorexia Nervosa who was with their Drudenhaus and New Abscurantis Order N°1 import in Japan, N°5 in Holland or Arkhon Infaustus who were on the way to become huge before the split…As young bands from France, Glaciation, Deathcode Society, Khaos Dei can become important too. I wake up everyday at 6AM, every morning before i enter in action, i am thinking of what i do, what i did, what i want to do, every morning i sake my head to keep the light on, this small light i have in my head who keep me awake, aware.
21. That would be all, Hervé. Thanks a lot for taking the time to do this interview! Hope to hear from you real soon! 🙂
Thank you very much for your interview, and i really hope one day to fly to Colombia, as i wish to discover the south America since years now, but would need 3-4 months off to visit. It is something my wife and me talk about. All the best to you and the readers, keep the flame on cos we will continue to corrupt your souls!
We really thank Herbaut Hervé for his detailed, thorough answers. Since he is a very busy man, and he rarely gives interviews, we at Crónicas Estigias consider ourselves very lucky to have this interview with such a true legend of the underground. THANKS!